Viennese Ballet
Vienna's singular gift to the world of Dance is the Waltz. Ballet has never really taken root the way it did in London, nor did it ever enjoy comparable popularity. Yet there were some notable Austrian contributions to the art, especially those linked with the names of Gertrud Bodenwieser and Crete Wiesenthal.
In Ballet for Two we brought an exhilarating dance programme, mainly of waltz rhythms, to many a remote place- this in the 1950s, long before Sadler's Wells ventured far into the provinces. Evelyn Ippen and Bettina Vernon, two able and attractive ballerinas of the Bodenwieser school, were partnered by that inimitable and infinitely accomplished Viennese pianist Marcel Lorber. This modestly proportioned show, costumed and produced by Otto Diamant, played to full houses and earned much praise and applause. In later years, excerpts were included in our production of Die Fledermaus at the Royal Festival Hall and elsewhere.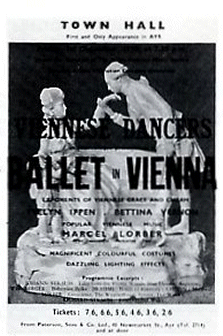 In 1953 we presented the Wiesenthal Ballet for a two week season at the Princes Theatre in Shaftesbury Avenue - a very major venture for the Society in those early days. Six ballerinas from Vienna, in costumes by the Wiener werKstatte s leading designers and accompanied by a hardworking London orchestra under Isy Geiger, brought the original choreography of the ballet's founder, mainly to the music of the Strauss family, but also to some Mozart and Schubert, and even Salmhofer and Schrecker. The London ballet critics were sparing in their praise - but the public loved it and word-of-mouth publicity soon filled the theatre.

Persistent attempts to bring the Volksoper with a full scale production of Viennese operetta foundered on the enormous costs involved - but they led in the Summer of 1969 to a visit of the Ballet of the Vienna Volksoper to the Royal Festival Hall. Under the direction of Carl Nemeth, with Franz Bauer-TheussI conducting the Royal Philharmonic Orchestra, and some coloratura from the Volksopcr's great English star Adeic Leigh, we had 16 splendid performances of the very highlights of operetta ballet. This ballet season was made even more of an occasion by John Denison, director of the Royal Festival Hal], interrupting a performance to announce that the first man had just landed on the moon... Orchestra and dancers broke intoJohann Strauss's Sphdrenklange.