Voices of Europe CD
Engel Lund's Book of Folk Song with pianoforte accompaniments by Ferdinand Rauter

The Anglo-Austrian Music Society is proud to have helped sponsor this CD in memory of Ferdinand Rauter, founder of the Anglo-Austrian Music Society.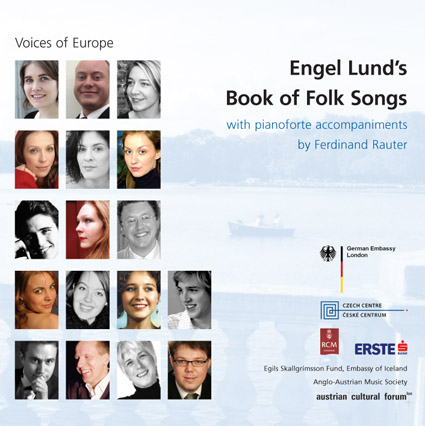 An exceptional group of young international singers have just accomplished the first ever recording of ENGEL LUND'S BOOK OF FOLK SONG, a unique collection of beautiful folk songs in 10 different languages, created in London in 1936 by the Icelandic singer Engel Lund and Austrian composer FERDINAND RAUTER, founder of the Anglo-Austrian Music Society. These were published by Oxford University Press. The recording was produced at the Royal College of Music studio in London by Norbert Meyn, Professor at the RCM, and introduces some of the best young singers in London today, including the Austrian Mezzo-Soprano Daniela Lehner.

In the 1930's and 40's the Icelandic singer ENGEL LUND and FERDINAND RAUTER, represented by London's premiere artists agency, Ibbs & Tillett, travelled the world with a unique recital programme of folk songs from many European countries. At a time of growing separation, violence and destruction these artists brought a message of the universal nature of the human heart to enthusiastic audiences all over Europe and the United States. Engel Lund herself sang in 17 different languages, included Jewish as well as German songs in each programme, and gave lively, much praised introductions to the songs and the stories in them. The Chicago Daily News wrote in 1937: "Her recital gave a glimpse into the human heart of many peoples; that heart is very much alike the world over, but Mme Lund has studied it on a humble level where the native differences of its expression mean everything and are dearest."

In 2006, seventy years after ENGEL LUND'S BOOK OF FOLK SONG was first published, young singers from all these different countries could be found in London, so all songs are sung by a native speaker of each language. With this CD, a new generation of singers pays tribute to two extraordinary artists of the 20th century. It unites young talent from Iceland, Sweden, Denmark, Norway, Switzerland, France, the United States, Israel, the Czech Republic, Austria and Germany. The project was funded by the Anglo-Austrian Music Society, the Austrian Cultural Forum, The Icelandic, Czech and German Embassies, the Royal College of Music and by Erste Bank London.


To order a copy of the first special edition of the CD, please send cheque for £13.99 (including postage & packing) made out to "Lieder Theatre Ltd" to :
Andrea Rauter
Austrian Cultural Forum
28 Rutland Gate
London SW7 1PQ


"Engel Lund's collection of folksongs is a casket of musical gems. Ferdinand Rauter's piano parts are crafted in a way that never destroys the simplicity or the national character of the originals - and they cover a wide range, from Lund's native Iceland to Austria, from Eastern Europe to Kentucky. All are performed with precision and aplomb by Norbert Meyn's team of young singers and pianists".
Roger Vignoles, Prince Consort Professor at the Royal College of Music.

"Exceptional voices from across the world - some outstanding new talents."
Opera Now, Nov. 06, concert review

"These songs were systematically collected and performed at a time of extreme divisions and distress in Europe, in vocal opposition to terror and war and as a sign of unbeatable hope and optimism. In the language of political analysts they constitute "soft power", superior to other manifestations of power in the long run, and more apt to bridge gaps separating human beings and nations. And this seems more necessary then ever."
Gabriele Matzner-Holzer, Austrian Ambassador in London, June 2006